Here we organizes some pictures of Delta Special Forces to share with Shekkin gears fans for reference and research on military cos and soldier figures' works. The characters in the Delta Special Forces Atlas are the special forces we often call SFOD-D, CAG, and ACE. (some cif units are also included)

After the previous post, we have been asked about the team composition and staffing of Delta, whether it also has the structure of the red team and the gold team like DEVGRU. Now I will share the structure tree table for everyone to understand: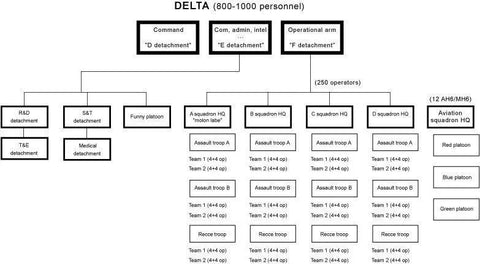 From the book "Relentless Strike" written by Sean Naylor, the structure of the Delta Force is further elaborated. He described that some of the formations in the Delta are similar to the British 22 special air service. There are nearly 1,000 related personnel, of which about 250 to 300 perform direct action operations and hostage rescue missions. The direct action operations units are formed in the form of saber squadrons, including A, Squadrons B, C, and D (attack), another Squadron E is an aviation squadron, and Squadron G specializes in data collection, early reconnaissance and target surveillance, which some women are employed. There are also combat support squadrons. They are highly specialized support personnel and are leaders in their respective fields (including WMD weapons of mass destruction experts, EOD experts, medical personnel, SIGINT communications intelligence experts and other experts).
In each Sabre squadron, there are three echelon tactical commandos: two specializing in direct action operations, and one reconnaissance and surveillance assault force, or "reconnaissance" force, which monitors enemy positions and snipers during operations. Each squadron is commanded by a lieutenant colonel (O-5), the commando is led by a major (O-4), and each commando has several groups, each of which is headed by a sergeant (E-8) or major (E-9) Led. The rest of the team consists of sergeant (E-5) to sergeant (E-7) and other ranks.